Dewatering of oily sludge without clogging

Chicken processing plant in Ukraine
Problem
The chicken processing plant in Ukraine had a big issue on tremendous amount of sludge disposal costs due to direct disposal of the sludge without dewatering. They had tried to look for a suitable sludge dewatering equipment for easy dewatering of the oily sludge, however it was almost impossible to find.
AMCON's offer for a solution
The customer installed ES-303 model understanding of the advantage of VOLUTE™ Dewatering Press; high resistance to oily sludge.
Customer's comment: "We used to hesitate to install dewatering equipment due to anxiety for problems such as clogging and frequent maintenance of equipment for dewatering of oily sludge. However we are surprised at the fact that VOLUTE™ hardly has clogging. The full automatic operation is very helpful for easy management. The water content in sludge cake is as good as 71.5%, which is the performance of the VOLUTE™ Dewatering Press we are greatly satisfied with. We really realize that the installation of VOLUTE™ is the best choice we made."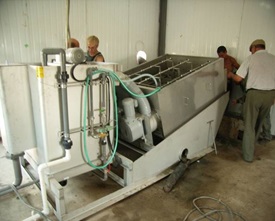 Feel free to contact us for any inquiries
about sludge treatment and wastewater treatment.
Inquiries about Products, operation instructions, troubleshooting and repairs
Sludge Dewatering Press & Thickener
Sludge dryer & sludge dewatering and fermentation system
Water Treatment Chemicals
Other Products
Inquiry by Phone

+81-45-540-8580

Weekdays 9:00~17:00