VOLUTE™ Dewatering Press reduces maintenance time sharply!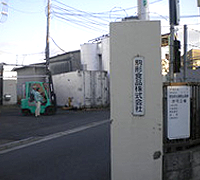 Komagata Foods Co., Ltd. (Japan)
Problem
Komagata Foods Co., Ltd., manufacturing feed for fish cultivation, used to use a belt filter press, but they had always faced clogging problems because of the oily sludge. They also suffered from spillage over from the side of filter cloth, making operators to keep their eyes on the machine all day.
AMCON's offer for a solution
To solve these problems, they looked for various dewatering presses and had opportunities to test their sludge by demonstrations, but couldn't find the right dewatering press that had good performance and price. At such time, a company they had known well introduced VOLUTE™ Dewatering Press to them. We gave a demonstration and the test result was great. After installation, VOLUTE™ Dewatering Press could reduce sharply the time spent on management of sludge dewatering equipment.
We are proud to be given such a comment, "Compared with the former dewatering equipment, it became really easy to maintain. Persons in charge of after sales service were also very nice."
Feel free to contact us for any inquiries
about sludge treatment and wastewater treatment.
Inquiries about Products, operation instructions, troubleshooting and repairs
Sludge Dewatering Press & Thickener
Sludge dryer & sludge dewatering and fermentation system
Water Treatment Chemicals
Other Products
Inquiry by Phone

+81-45-540-8580

Weekdays 9:00~17:00