Installation in a narrow space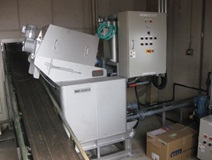 Meat processing factory in Japan
Problem
This factory had used multi disc type dewatering equipment for long time; however, they had been facing problems such as aging and lack of throughput of the equipment.
Due to a limited space for the dewatering equipment, they were looking for compact dewatering equipment with larger capacity.
AMCON's offer for a solution
AMCON offered Sludge Dewatering Press VOLUTE™ ES-303 model which can handle 12.8 m3/hr. as maximum for this sludge concentration at 7,000 mg/L. In case the existing building is too small to install this large scale equipment, large-scale construction work could be necessary such as re-construction of a new building or breakings down of the entrance. AMCON's Sludge Dewatering Press VOLUTE™ can be divided into the Flocculation Tank part and the Screw part, which enabled transportation and installation through the existing narrow entrance. Water content resulted in better than the previous value at 85%. Customer's comment: "It is helpful to be able to confirm flocculation and filtrate condition at sight."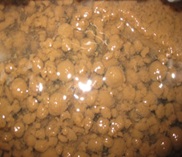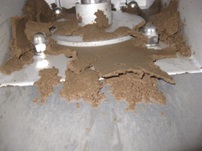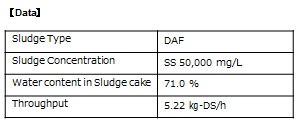 Feel free to contact us for any inquiries
about sludge treatment and wastewater treatment.
Inquiries about Products, operation instructions, troubleshooting and repairs
Sludge Dewatering Press & Thickener
Sludge dryer & sludge dewatering and fermentation system
Water Treatment Chemicals
Other Products
Inquiry by Phone

+81-45-540-8580

Weekdays 9:00~17:00