Ultra-small VOLUTE™ Dewatering Press ES-051 largely solves all the costs and maintenance problems.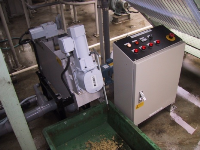 Septic Tank in Ukraine
Problem
In the year of 2004 in Ukraine, there was no compact sludge dewatering equipment suitable for small-scale wastewater treatment facilities like septic tanks. As for septic tanks, it had been common that liquid sludge was disposed by tanker truck and delivered to central sludge dewatering facilities for post treatment. For that reason, the annual sludge disposal cost was extremely high, which had been a major issue among user and maintenance service company.
AMCON's offer for a solution
Upon the request from our Ukrainian distributor to solve this issue, AMCON succeeded in the development of ES-051 model with its throughput as small as 1kg-DS/h with minimum footprint. Installing this model, the end-users have succeeded in reducing their sludge disposal cost by 1/3, even with the operating cost of VOLUTE™ included. The longstanding maintenance trouble was simultaneously solved. At the time of 2009, there are more than 10 small-scale wastewater treatment plants in Ukraine with ES-051 model installed.
Feel free to contact us for any inquiries
about sludge treatment and wastewater treatment.
Inquiries about Products, operation instructions, troubleshooting and repairs
Sludge Dewatering Press & Thickener
Sludge dryer & sludge dewatering and fermentation system
Water Treatment Chemicals
Other Products
Inquiry by Phone

+81-45-540-8580

Weekdays 9:00~17:00