Reduction of maintenance man-hour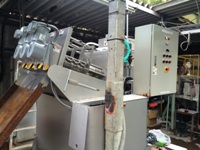 Dewatering oily sludge
Replacement
Reduction of maintenance man-hour
Recycle plant
Glass Recycling Factory
This factory recycles glass and processes them into small pieces which can be used for making glass bottles. Nevertheless, the pieces of glass need to be washed before having been shipped to another factory where the final product will be made and this cleaning water needs to be treated somehow. They had been using a belt press for dewatering sludge generated from their wastewater treatment plant, but because of its age, they started looking for a new sludge dewatering system.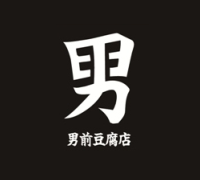 Food Processing Plant
Reduction of maintenance man-hour
Otokomae Tofu Inc.
Otokomae Tofu Inc. develops, manufactures and sells Tofu (Soybean Curd), with impressive product names. They installed the second VOLUTE™ Dewatering Press in their Kiyosato factory, following the first one installed in their Kyoto factory. We interviewed the responsible person to take care of the whole wastewater treatment plan to ask the reason why they have become our repeater.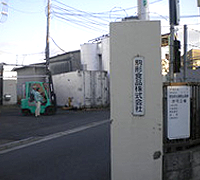 Food Processing Plant
Replacement
Reduction of maintenance man-hour
Komagata Foods Co., Ltd.
Komagata Foods Co., Ltd., manufacturing feed for fish cultivation, used to use a belt filter press, but they had always faced clogging problems because of the oily sludge. They also suffered from spillage over from the side of filter cloth, making operators to keep their eyes on the machine all day.
Sludge Dewatering Press & Thickener
Sludge dryer & sludge dewatering and fermentation system
Water Treatment Chemicals
Other Products
Inquiries about Maintenance of plumbing systems for residential and commercial buildings
Inspections of facilities
Repairs of water supply and drainage systems
24-hour maintenance
Drainage cleaning
Drinking water storage tank cleaning
Drain tank cleaning
Inquiries about Water quality testing & various environmental analyses
Drinking water, bathtub water and other water quality testing
Wastewater and soil analysis (measurement certification business)
Hygiene testing (swab test)
Inspection of private waterworks
Air quality measurement
Radioactivity measurement
Sale of large business-use water filters and household water filters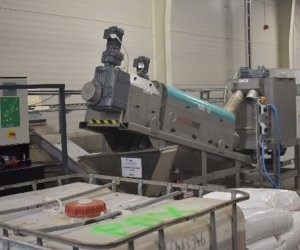 VOLUTE DUO™ dewaters highly fibrous sludge
Ecological stretch film factory in Poland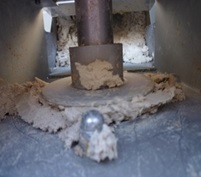 Easy dewatering of oily sludge by the self-cleaning mechanism
Ingredients manufacturing factory for instant noodles