1991.4

VOLUTETM Dewatering Press/Thickener
(1st generation)

The 1st generation of VOLUTETM Dewatering Press/Thickener. The unique sludge processing mechanism with the self-cleaning filter mesh has done away with the concept of using flushing water for clog prevention.
1992.3

VOLUTETM Dewatering Press/Thickener
(2nd generation)

Newly adapted, laminated ring-type core unit, VOLUTETM Dewatering Press/Thickener has evolved into the 2nd generation and established the foundation for VOLUTETM technology, which has been incorporated into successive versions.
1992.5

VOLUTETM Dewatering Press ECONO TS series

Integrating a sludge conditioning tank, a novel idea, has enabled high capture rates of solid contents to be obtained, and tremendously enhanced sludge treatment efficiency. This is the preceding series of the current EC series.
1996.4

Biodryer Dell Compo DC series

A sludge dewatering and fermentation system for community wastewater treatment plant purposes.
Producing fermented fertilizer from sludge realized "zero-emission" of sludge and "local production for local consumption" of sludge.
1997.4

VOLUTETM Dewatering Press MS series
(Japan Sewage Works Agency standard specification)

In joint research with the Japan Sewage Works Agency, AMCON demonstrated the world's first direct dewatering of sludge from OD reactor tanks. Direct dewatering of low-concentration sludge from OD reactor (aeration) tanks eliminated thickening and storage tank investment and operation costs.
2001.4

VOLUTETM Dewatering Press EC series

The series succeeding the VOLUTETM Dewatering Press ECONO TS series. A long-selling product, changing the material of the sludge conditioning tank material from steel to stainless steel has improved durability and lowered costs.
2003.4

Sludge Dryer Solapy SP/SL series

A sludge dryer developed from a customer request for further sludge reduction. Reducing the amount of dewatered sludge by drying has sharply reduced treatment costs of the customer. Two versions, with electric or steam heat sources, are available.
2004.10

VOLUTETM Dewatering Press ES series

Available as a lower cost alternative to the EC series.
An affordable price was realized by eliminating the sludge conditioning tank.
2009.2

VOLUTETM Dewatering Press ES-350 series

Based on high demand, a larger throughput of VOLUTETM Dewatering Press. The throughput of this series is twice as large as that of the previously largest model and has enhanced the scope of application of VOLUTETM Dewatering Press.
2011.5

VOLUTETM Dewatering Press VDC series
(3rd generation)

Succeeding the merit of the existing VOLUTETM series lineup, the first model to mount the further evolved "Advanced VOLUTETM" core unit. sharply reducing the required amount of periodic replacement parts used to retain dewatering performance.
2016.11

VOLUTETM Dewatering Press GS Series

Based on the best-selling ES series, we improved the throughput capacity greatly, by optimizing screw design and adopting a newly designed pre-thickening function.
Moreover, this product was developed particularly based on the concept of operator-friendliness, for example standardized HMI panel that makes operation even more simple and full cover with inspection port on the top and on the side.
2018.07

VOLUTETM Dewatering Press DW Series
2019.07

VOLUTETM Dewatering Press FS Series
2019.08

VOLUTETM Dewatering Press MW Series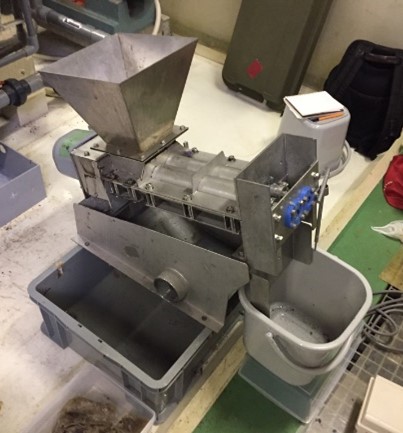 Improving the working environment by dewatering waste dry film photoresist
Semiconductor package manufacturing plant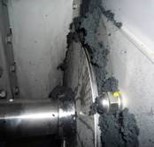 Effectiveness in dewatering of digested sludge generated by the biomass process
Food factory in Japan