VOLUTETM is ideal for oily sludge with clog-free and self-cleaning mechanism
The clogging of filter mesh decreases the efficiency of conventional dewatering equipments.
AMCON's dewatering press is equipped with unique VOLUTETM technology, which enables dewatering while automatically self-cleaning the filter mesh. This enables stable and constant dewatering to take place without depending on high pressure flushing water to prevent clogging.
This self-cleaning mechanism enables VOLUTETM to be ideal to dewater oily sludge, which easily causes clogging and is difficult to treat with other types of dewatering equipments.
Thickening and dewatering all in one filter drum
It was the common theory of dewatering process to first thicken the sludge and then dewater before the invention of VOLUTETM.
VOLUTETM adopted the unified structure that serves two functions, thickening and dewatering in the single machinery. The secret lies in the self-cleaning mechanism. The drum filter, because of the clog-free, realizes higher speed of filtering phenomena per filtering area as compared to other methods, and the sludge is instantly thickened by gravity. For this reason, low concentration sludge of about Total Solids 0.2%, as well as thickened sludge, can be directly fed without pre-thickening.
Thus, the direct feed of low concentration sludge is possible, so that the direct dewatering becomes possible from oxidation ditch (aeration tanks), many of which are introduced in small scale municipal wastewater treatment plants throughout Japan.
Revolution in sludge treatment VOLUTETM introduced
- Direct dewatering from oxidation ditch -
Generally speaking, in the precedent stage of sludge dewatering, there is a sludge thickening tank for pre-thickening of sludge and a sludge storage tank for storing the thickened sludge. The sludge in the sludge thickening tank or sludge storage tank gives off offensive odors as time passes while the thickening and dewatering treatment is processed. Direct dewatering of low concentration sludge from the oxidation ditch (aeration tank) with VOLUTETM removes odor by dewatering fresh aerobic sludge, reduces investment costs for thickening and storage equipment and operation costs. Furthermore, phosphorus in waste activated sludge can be efficiently captured in the dewatered sludge cake, which reduces the load of returning phosphorus to the wastewater treatment. In addition, the condition of the sludge in the oxidation ditch (aeration tank) is always stable, which further contributes to the stable dewatering process.
This "Direct dewatering from oxidation ditch" was demonstrated for the first time ever in the world as a result of the joint research of AMCON and the Japan Sewage Works Agency in 1998, and now it is the most standard sludge treatment process flow in Japan with hundreds of applications.
Commonly used sludge treatment
Oxidation ditch direct dewatering
Applicable to sludge in various kinds of applications
Municipal water and wastewater treatment plants
Agricultural/fishery community wastewater treatment plants
Industrial waste treatment plants
Food/beverage production plants
Dairy farming/Meat processing plants
Chemicals manufacturing plants
Machinery manufacturing/Metal processing plants
Laundry wastewater
Other (paper manufacturing, building material manufacturing, oilfield associated water accompanied with crude oil mining, etc.)
Wide range of line-up/Small footprint
Wide range of line-up
The model of sludge dewatering press based on the customer needs can be selected from a wide range of line-up, from a super-small 0.5 kg-DS/h throughput to a large 1664 kg-DS/h throughput. Likewise, sludge thickeners can be selected from 1 m3 to 90 m3/h capacity.
Sludge Dewatering Press
Sludge Thickener
Small footprint
VOLUTETM has a smaller footprint than other technologies. VOLUTETM can be installed in places where placement would not be possible with other technologies for reasons such as low building ceilings or limited area. Therefore, the construction cost of a large building for installation is not required. This makes VOLUTETM suitable to customers who are considering the replacement of existing dewatering equipment.
Easy operation/Easy maintenance
Intuitively understandable operation system adopted. Monitoring of the operation settings is made very easy.
Full automatic 24-hour operation without an operator on-site is possible with automatic operation control using various sensors. With this function, manual operation, such as starting or stopping, is not required. Moreover, daily maintenance is minimized, requires no skilled labor neither special knowledge, so that everybody can use it easily.
Our customer's voice
Operator for wastewater treatment plant of aluminum casting plant

"I used to use a belt filter press for dewatering DAF sludge, which caused frequent clogging and low dewatering efficiency, making my job very troublesome.
After the installation of VOLUTETM, the maintenance hours were tremendously reduced compared with the time when I had to spend a lot of time every day cleaning the belt filter, and we now have full automatic operation without an operator, making my job much easier."
Operator for a municipal wastewater treatment plant

"After the installation of VOLUTETM Dewatering Press, the working hours for sludge treatment have been sharply cut. Now, I only have to treat the dewatered cake and refill the polymer once a week, which is very easy. The dewatering press operates continuously for 24 hours without any trouble, and our working hours are just the minimum.
Expandable throughput
The throughput of VOLUTETM can be easily expanded with its Cylinder Unit. We are ready to meet your expectation, "We want to be prepared for the increase of sludge in the future, but without too much increase in the initial cost..."
Environment friendly (power saving/water saving design)
Power saving
The screw which is the main component of VOLUTETM rotates very slowly at a rate of 2 to 4 rpm, so that it consumes very low power and thus economical. When comparing VOLUTETM with centrifuge for 45kg-DS/h throughput, the power consumption of VOLUTETM is 1/15th of centrifuge which requires rotation at high speed.
Comparison of power consumption among sludge dewatering equipments (throughput 45kg-DS/h)
* Figures are based on researched by AMCON
Water-saving
VOLUTETM prevents filter mesh from clogging with its unique self-cleaning mechanism, removing the need for huge amounts of water for clogging prevention. When compared with dewatering equipments of the same throughput, the amount of cleaning water required for VOLUTETM is about 1/115th of belt press and about 1/12th of conventional screw press.
Comparison of spray washing water consumption among dewatering equipments (throughput 45kg-DS/h)
* Figures are based on research by AMCON
Low noise/low vibration
Because VOLUTETM has no rotating body with high speed, there is no concern about noise and vibration.
The low noise releases stress and noise protection are not required when the machine is in operation.
Moreover, the vibration is also minimized so that no sophisticated groundwork is required.
For these reasons, a comfortable work environment can be secured.
Comparison between noise of dewatering equipment and daily life noise
*Figures are based on research by AMCON
Warranty and reliable after-sales service
As many users continue to use dewatering/thickening equipment for more than 15 years, the after-sales service from the manufacturer is very important. AMCON thinks the relationship with a customer starts after the installation of the product. We focus on after-sales service that makes the operator on site feels comfortable to operate and maintain for many years to come. Please feel free to inquire with any questions, such as how to operate, check and maintain equipment, etc.
AMCON products are warrantied for two years as standard. There is also an option to extend it up to 4 years.
※Except for Sludge Dryer K series
Our customer's voice
Operator for wastewater treatment plant for beverage production factory

I was faced with the problem of sludge not discharging from the dewatering press. I called AMCOM to ask for advice to solve the problem, and they told me how to handle the situation in a way easy for even me, who is not an expert, to understand. That was very helpful. If the dewatering press stops, it will affect the production of our products. Therefore, AMCON's always swift response is very much appreciated.
Operator for wastewater treatment plant for cosmetics manufacturing factory

I was newly assigned to wastewater treatment due to a personnel relocation. I was very anxious because I had no experience in operating/managing sludge dewatering press. At the time, an AMCON sales engineer came over for inspection and he explained to me how to operate everything, which was helpful. I was also impressed with his heartiness for the work. He said "If you need our help, let us know immediately", and that encouraged me.
VOLUTETM extends to the world
Awards Received
VOLUTETM wins Innovation Award at "Wex Global Forum 2015"
March 2015, VOLUTETM Dewatering Press won the Innovation Award at WEX Global Forum 2015, a business matching event focused on energy and water, which is held by a British company WEX every year. This event, sponsored by multi-national companies in the industry, promotes innovation of technologies that will save the environment of the Earth. The judgment focused on the feasibility of bringing value in the market and VOLUTETM was assessed as the most innovative technology.
China International Industry Fair 2007 - The Bronze Prize -
AMCON's VOLUTETM Dewatering Press was awarded with the bronze prize for its superb technology at "China International Industry Fair 2007", which was held in Shanghai in November 2007. Only 30 companies won the prizes out of 1775 exhibitors in this fair. It was the moment the VOLUTETM Dewatering Press was widely accepted in China.
CIIF 2007, sponsored by the Chinese government, was one of the biggest events of the industry fairs held in China, comprising 1775 exhibitors, 4522 booths and over 90,000 visitors. The primary reason for winning the bronze prize lies in its innovative clog-free construction, which is distinct from conventional sludge dewatering equipments.
Amsterdam Aquatic 2004 - Nominated for an Innovation Award -
In Amsterdam AQUATEC Exhibition 2004, one of the big three international events for water treatment technology held biennially in Netherlands, AMCON's VOLUTETM Dewatering Press was nominated for an innovative award. We are honored to be recognized by specialists in the field of water treatment technology, where utilization of foreign technologies is rapidly growing.
※VOLUTETM is a trademark of AMCON products.
Feel free to contact us for any inquiries
about sludge treatment and wastewater treatment.
Inquiries about Products, operation instructions, troubleshooting and repairs
Sludge Dewatering Press & Thickener
Sludge dryer & sludge dewatering and fermentation system
Water Treatment Chemicals
Other Products
Inquiry by Phone

+81-45-540-8580

Weekdays 9:00~17:00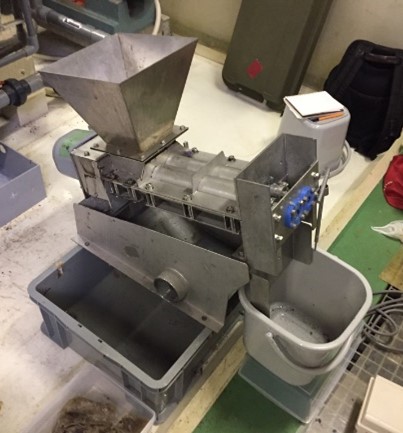 Improving the working environment by dewatering waste dry film photoresist
Semiconductor package manufacturing plant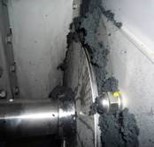 Effectiveness in dewatering of digested sludge generated by the biomass process
Food factory in Japan