Specifications List (lb)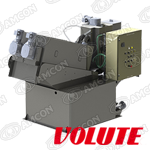 Sludge Dewatering Press
EC Series
Raw Wastewater /
Waste Activated Sludge /
Chemically Precipitated Sludge
Sludge
Concentration
(TS)
-1.5%
EC-101
up to 10 lb-DS/h
EC-102
up to 20 lb-DS/h
EC-131
up to 35 lb-DS/h
EC-132
up to 70 lb-DS/h
EC-133
up to 105 lb-DS/h
EC-202
up to 60 lb-DS/h
EC-203
up to 90 lb-DS/h
EC-204
up to 120 lb-DS/h
EC-205
up to 150 lb-DS/h
Model
Dimensions (inch)
Total Power
Consumption (kW)
Weight (lb)
L
W
H
Empty
Operation
EC-101
69.1
27.5
60.6
0.65
551
1433
EC-102
69.1
35.4
60.6
0.7
661
1763
EC-131
69.1
27.5
60.6
0.7
584
1466
EC-132
69.1
35.4
60.6
0.8
727
1829
EC-133
72.7
43.3
60.6
0.9
881
2314
EC-202
97.8
46.4
68.0
1.45
1873
3968
EC-203
102.0
57.8
68.0
1.8
2325
5191
EC-204
104.9
70.0
68.0
2.7
3196
6834
EC-205
107.9
82.0
68.0
2.9
3968
8157
* Throughput above is calculated as approximate and may vary depending on sludge condition.
For model selection, please contact us.
* Throughput of each model is based on sludge cake with solid content higher than 15%.
* There is no certain upper limitation on inlet sludge concentration, however, the target sludge must be flowable.
Feel free to contact us for any inquiries
about sludge treatment and wastewater treatment.
Inquiries about Products, operation instructions, troubleshooting and repairs
Sludge Dewatering Press & Thickener
Sludge dryer & sludge dewatering and fermentation system
Water Treatment Chemicals
Other Products
Inquiry by Phone

+81-45-540-8580

Weekdays 9:00~17:00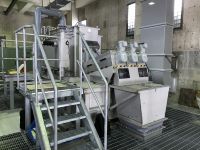 No need to change operational settings even when sludge concentration fluctuates
Sewage treatment plant in Japan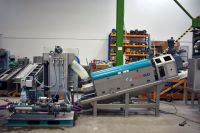 From zero treatment to the best sludge treatment experience
Plastic recycling factory in the Netherlands