Specifications List (lb)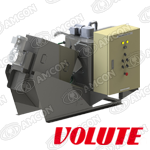 Sludge Thickener
VT Series
Model
Capacity (inflow)
GPH
Dimensions (inch)
Total Power
Consumption (kW)
Weight (lb)
L
W
H
Empty
Operation
VT-101
up to 270
69.7
35.4
49.2
0.3
352
639
VT-131
up to 800
69.7
35.4
49.2
0.3
374
661
VT-201
up to 2,640
95.9
35.4
68.3
1.15
793
1499
VT-301
up to 8,000
136.3
51.9
79.7
1.5
1851
3637
VT-302
up to 16,000
188.1
66.3
79.7
3
3306
9259
VT-303
up to 24,000
195.9
75.9
79.7
4.45
4299
12235
* Capacity is based on waste activated sludge from biological treatment with TS 0.4% and thickening up to 4% with polymer.
*?Figures above?are calculated as approximate and may vary depending on sludge condition. For model selection, please contact us.
Feel free to contact us for any inquiries
about sludge treatment and wastewater treatment.
Inquiries about Products, operation instructions, troubleshooting and repairs
Sludge Dewatering Press & Thickener
Sludge dryer & sludge dewatering and fermentation system
Water Treatment Chemicals
Other Products
Inquiry by Phone

+81-45-540-8580

Weekdays 9:00~17:00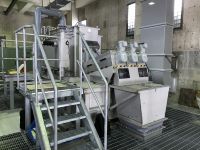 No need to change operational settings even when sludge concentration fluctuates
Sewage treatment plant in Japan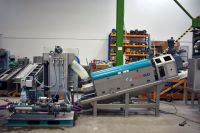 From zero treatment to the best sludge treatment experience
Plastic recycling factory in the Netherlands