Intellectual Property Initiatives
We must continue to exist to Provide Amenity and Convenience beyond Expectation.
Under our corporate philosophy of "Providing Amenity and Convenience beyond Expectation," we at AMCON aim to realize a better society by creating products and services that are truly customer-oriented and by providing comfortable and convenient services and products for all facilities in the world.
We strongly feel that our business is indispensable to society and that it is our mission to ensure the company's continued existence.
Strategies
We are pleased to provide our customers with value-added products protected by intellectual property rights (patent rights, utility model rights, trademark rights, design rights, etc.) so that these products can contribute to our customers and society. Holding intellectual property rights not only in Japan but also in many other countries and regions including China, the EU, the U.S., and India, we are expanding our sales area by providing attractive products and services that earn the trust of customers around the world.
In addition, we respect intellectual property rights held by third parties and recognize that intellectual property rights held by AMCON are important assets, thereby striving to preserve and secure these rights.
Brands

The name given to the first sludge thickener we manufactured and marketed, that is, the word "VOLUTE" meaning "spiral" or "helical", was designed as a logo and registered as a trademark. The first sludge dewatering press with a made-in-Japan mechanism was developed by AMCON.

It has been 30 years since we started marketing VOLUTE. We have developed a new product that can be used with an even wider range of sludge types. The next generation of VOLUTE products is trademarked as "VOLUTE DUO" due to the characteristics of their mechanism.
Challenge and Creativity as a Manufacturer
AMCON was founded as Environmental Facility Center in 1974.
At that time, our main business was the "maintenance of septic tanks at apartment complexes and sewage treatment plants ."
How did a maintenance company turn into a manufacturer capable of developing its unique sludge dewatering press, VOLUTE™?
There were passion as seen from their motto "AMCON do it as nobody else does," as well as free thinking and a history of hard work.
How wastewater was treated
in apartment complexes in the 1970s
In the 1970s, wastewater from the apartment complex was treated in "centralized septic tanks" placed on the premise. The water was returned to nature, and the remaining liquid sludge was transported to a central wastewater treatment plant. For more efficient treatment, it was necessary to concentrate the sludge to reduce its volume. However, sludge thickeners and sludge dewatering presses in those days were very expensive and difficult to install, and the cost of transportation was a major burden for the tenants and the management company.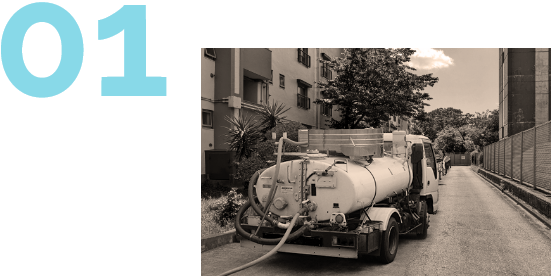 First step – starting as a manufacturer
Masaaki Sasaki, the founder of AMCON, couldn't stand the situation and decided to "make a new product ourselves if it doesn't exist in the world."
After extensive research with our development team, in 1982, we finally launched a "sludge thickener using filter cloth" as our first mechanical product. Its small footprint and affordable price satisfied many customers living in apartment complexes.
However, a challenge remained in our first self-developed unit. The system of separating water and dirt with filter cloth is prone to clogging, requiring large amounts of cleaning water, replacement of filter cloth, intensive labor, and costs. Being painfully aware, from the experience of the maintenance company, of the inconviniences operators on site feel, we, as "the manufacturer, determined to overcome this remaining challenge, "labor intensiveness and high operating cost".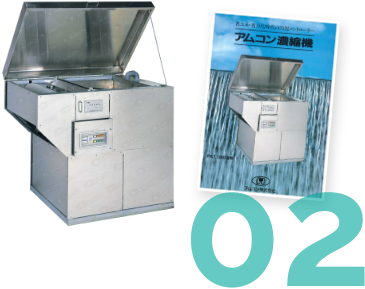 Second step – the birth
of the comb-blade VOLUTE™
The R&D restarted with "screw press" as the main principle of the design, as it does not use a filter cloth and consumes less energy. The idea was to create a mechanism to scrape out clogging materials by itself, which led to the "comb-blade" method. We developed a sludge thickener that combines a screw with layered nail-like parts and a filter element that intermesh with each other and evolved it into a sludge dewatering press through further innovations. The new products were named VOLUTE™, meaning "spiral" or "helical," and were officially launched in April 1991 as the "VOLUTE™ Thickener" and "VOLUTE™ Sludge Dewatering Press." This is the first patent obtained in 1990.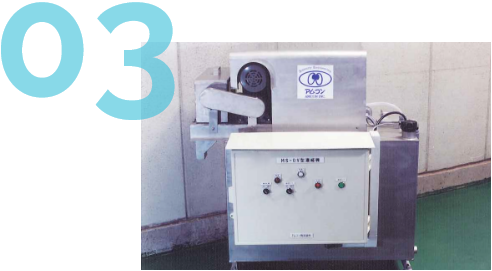 Overcoming the third challenge
While the number of deliveries of the comb-blade VOLUTE™ was steadily increasing, another obstacle stood in our way. When the machine was in full operation, a series of failures occurred in which the comb-blade broke after only a few hundred hours of operation. Repeated verification tests attributed the problem to the layered structure itself. Excessive load was concentrated on the comb blade itself, which was scraping out the sludge from the filter mesh. Is there any way to scrape out the clogging instead of using the comb? The founder and the development team were facing a tough time.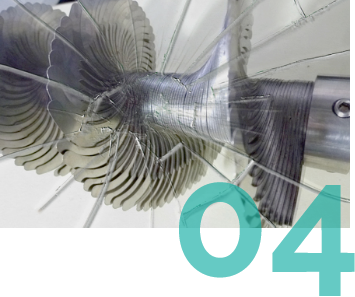 Birth of improved VOLUTE™, eliminating
the need for large amounts of cleaning water
One day, the founder happened to see "a series of swaying hand straps" on a train, which gave him a hint for a breakthrough. He thought "If a screw in a filter element layered with rings is installed in a filter body and moved, it can be effective in preventing clogging. "This idea was immediately reflected in production of a prototype, resulting in a completely new product called the "multi-disc screw press." With a clog-free structure and self-cleaning "moving rings", we realized the world's first sludge thickener/dewatering press "requiring no cleaning water." (*A very small amount of water is used with the shower to wash off leaked sludge.)
We obtained the second patent in 1992 with this equipment, and it is the origin of the VOLUTE™ Sludge Dewatering Press, which is still one of our core products today.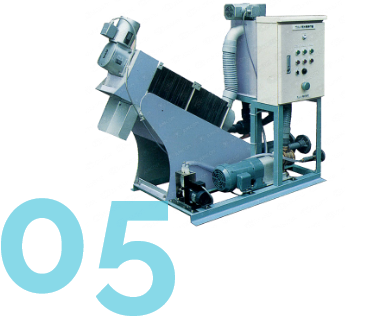 Our never-ending journey
Starting as a manufacturer with the goal of "creating a sludge thickener/dewatering machine that eases wastewater treatment process," we have continued our research and development.
In 1996, we introduced "Dell Compo," a sludge dewatering and fermentation system for small WWTPs, realizing "recycling of sludge"; in 2004, the "dewatering machine for dry film resist waste" realizing dewatering of peeling waste, which is difficult to handle due to its strong alkaline nature; in 2016, the "AP series", a fully automatic polymer make-up unit realizing labor-saving in the dissolution of powder flocculant; in 2018, the "VOLUTE™ DW Series sludge dewatering press," realizing stable operation by automating the response to concentration variation, and in 2021, the "VOLUTE DUO™ sludge dewatering press," which achieves stable dewatering of sludge containing high fibrous or inorganic materials. However, our journey is not over. We will continue to deliver new technologies that realize "amenity and convenience beyond expectation".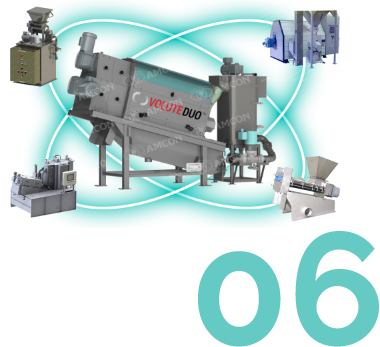 Further challenges and creation with flexibile way of thinking
With free thinking,


we continue to tackle challenges
and show our creativity.

While our origin was based on maintenance service at WWTP, we have shifted our focus to the development of sludge treatment equipment. That is why we can provide services and products that are close to the feelings of our customers and more specifically the operators who have to deal with sludge daily in the field.
Maintaining the status quo is synonymous with regression.
With mind of thinking outside the box, we will continue to create products that are never complete, no matter how much we develop.