Warranty and After-sales Service
Many customers use sludge dewatering presses and thickeners for an extended period once purchased, so after-sales service provided by the manufacturer is of extreme importance. With regular maintenance, some of our machines have been in operation for over 20 years, and we want our customers to always use our products in optimal condition for as long as possible.
Reliable Two-year Warranty
AMCON products made in Japan come with a 2-year warranty so that you can use the machine free from anxiety after installation.
Extended warranty options for up to 4 years are also available.
Repair/After-sales Service
In the event of a machine trouble, we will utilize our global sales network to provide prompt response and support to ensure that our customers' production and wastewater treatment processes are not adversely affected. Online support is also available from our headquarters in Japan.
AMCON and local partners' service engineers do more than just replacing defective parts. They will check the sludge, flocculation, dewatered cake, etc., make decisions on the spot, and perform operational adjustments.
Since sludge dewatering presses are basically repaired or maintained at the installation site, there is no need to arrange for rental equipment for replacement during the work period.
We also offer periodic inspection services (for a fee) to prevent rapid degradation of performance and maintain stable performance at all times.
*In some cases, depending on the machines, work at the installation site may not be possible due to the lack of the maintenance space available.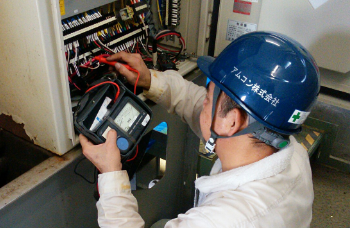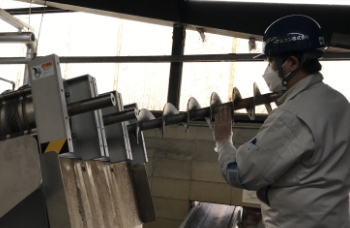 Global Structure
We have established a global network of sales bases in 15 countries and regions around the world, mainly in Japan, China, and the Czech Republic.
We are committed to the services that we can provide in the vicinity of our customers, so please feel free to contact us for repairs, maintenance, and any other problems you may have.

Click here for contact information by region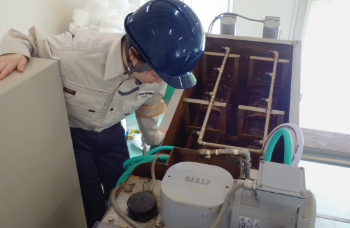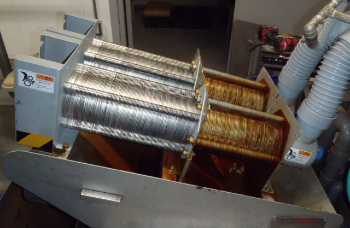 Inquiries about machine repair, maintenance, etc.
AMCON INC. International sales & marketing department
Call us at this number for more information.
TEL : +81 (0)45 540 8580
Hours:Weekdays 9:00-17:00 (Japan time)