Rental of Sludge Dewatering Presses
"We would like to rent an alternative machine when the existing unit is broken down or needs repairing,"
"We would like to reduce the disposal cost of sludge to be transported away,"
"The existing dewatering machine is insufficient to handle temporary increase in sludge,"
"We would like to remove and treat the sludge accumulated in sedimentation tanks."

Are you in trouble with emergency arrangements for a sludge dewatering machine or sludge disposal cost?
Machine rental from AMCON is possible from a minimum of 1 month to countries to which the machine can be transported from Japan.
We will propose the most suitable model after conducting a free sludge jar test and confirming the installation site.
Advantages of Using a Sludge Dewatering Press
Reduce Sludge Disposal Volume to 1/10 – 1/15 of Liquid Transportation
Since most of the sludge transported by vacuum trucks, etc., consists mostly of water, dewatering with a sludge dewatering press can greatly reduce the amount of sludge disposed.
For example, under the following conditions, a cost reduction of approximately 6 million yen per year can be expected, assuming that the removal and collection of sludge by vacuum truck costs 10,000 yen/㎥ and the cost of collecting dewatered cake is 18,000 yen/ton.
We can make a calculation after checking your latest treatment process status. Feel free to contact us.
ASSUMPTION DATA
Sludge volume:720㎥/year
SS:15,000mg/L
Water content:83%
Cake volume:63,530kg-wet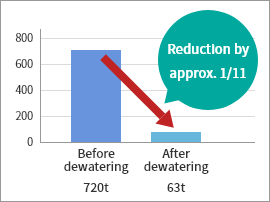 Sludge Disposal Volume(t)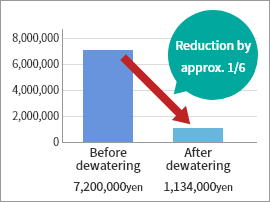 Sludge Disposal Cost(yen)
Overview
Rentable products
VOLUTE™ Dewatering Press, VOLUTE DUO™ Dewatering Press, and Polymer Make-up System are available.
A complete set of pumps, hoses, etc. can be rented for immediate use.
Rental period
Available for a minimum of one month.
* Feel free to contact us for the rental period.
Installation examples of rental machines
Please consult with us about installation sites either outdoors or indoors.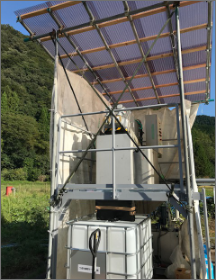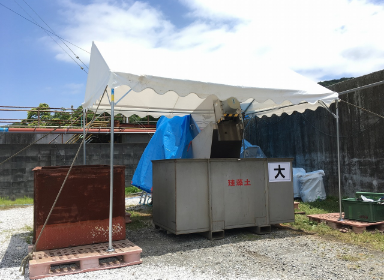 Flow From Inquiry to Rental
1. Inquiry and Application
For a consultation or application, please use this form to contact us, or call us.
We will ask you about the sludge type, amount of sludge, and installation site.
International sales & marketing department
TEL : +81 (0)45 540 8580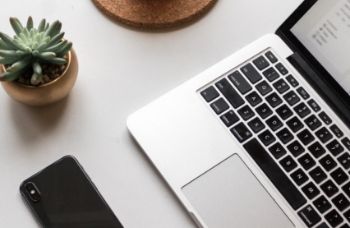 2. Free Sludge Jar Test
Please send us 2 to 3 liters of sludge (3 to 4 liters of inorganic sludge) along with a Shipping Invoice and Safety Data Sheet so that we can check the suitability to our dewatering machines. (Please prepare containers by yourself. They will not be returned.)
Address for sludge sample
AMCON INC. International sales & marketing department
1926, Nippa-cho, Kohoku-ku, Yokohama, Kanagawa Japan 223-0057
TEL : +81 (0)45 540 8580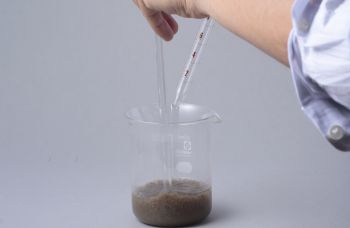 3. Site Inspection
We will visit the site as necessary to inspect the installation site of the dewatering machine.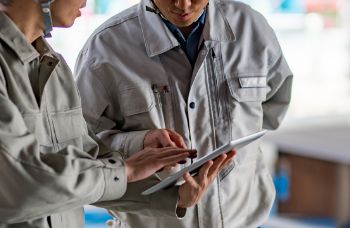 4. Transportation & Trial Operation
The rental begins after the machine is transported to the installation site and operational adjustments are made to ensure optimal conditions for use.