Case studies and testimonials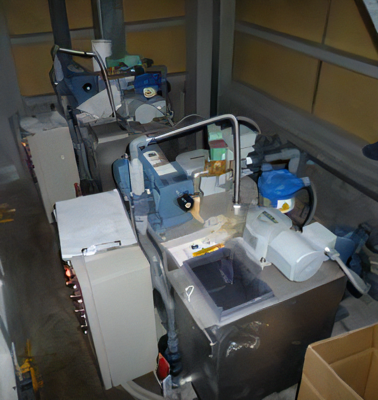 Sludge treatment equipment/water treatment chemicals
Succeeded in stable supply of polymer to two equipment from one Polymer Make-up System
Meat Processing Factory in Japan
Polymer make-up system

Food Beverage

Initial cost/outlays for construction reduction
Meat Processing Factory in Japan
This customer was newly proceeding with a plan for installing a wastewater treatment plant. As the wastewater discharged from the factory contained much oil, the customer was planning to install a dissolved air flotation system in the wastewater treatment process. The VOLUTE™ Dewatering Press, having strong resistance against oil, was considered for dewatering of the sludge.
We immediately tested the sample sludge and found that two types of polymer of both cationic and anionic polymer were needed to dewater the sludge. This means three Polymer Make-up Systems would be necessary; two for the sludge dewatering press and one for the dissolved air flotation system.
However, we were able to eliminate one Polymer Make-up System, thanks to the suggestion of the person in charge of ECP, to supply the anionic polymer from one Polymer Make-up System AF series to both the dewatering equipment and the dissolved air flotation system, by taking advantage of the features of our Polymer Make-up System AF series; "stable supply of polymer" and "easy management".
Both the dissolved air flotation system and the sludge dewatering press can operate safely as both the dissolving tank and the stock solution tank of AF series equipped with sensors for idling prevention. Moreover quick supply of polymer with stable concentration is possible with AF series because it dissolves liquid type polymer.
The wastewater treatment plant has constructed and started treating wastewater stably without any problems.
Introduced product/Service/Inspection menu