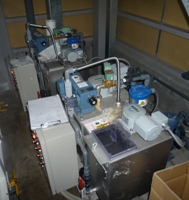 AF Series
Food Processing Plant
Meat Processing Factory
This customer was newly proceeding with a plan for installing a wastewater treatment plant. As the wastewater discharged from the factory contained much oil, the customer was planning to install a dissolved air flotation system in the wastewater treatment process. The VOLUTE™ Dewatering Press, having strong resistance against oil, was considered for dewatering of the sludge. We immediately tested the sample sludge and found that two types of polymer of both cationic and anionic polymer were needed to dewater the sludge. This means three Polymer Make-up Systems would be necessary; two for the sludge dewatering press and one for the dissolved air flotation system.
Feel free to contact us for any inquiries
about sludge treatment and wastewater treatment.
Inquiries about Products, operation instructions, troubleshooting and repairs
Sludge Dewatering Press & Thickener
Sludge dryer & sludge dewatering and fermentation system
Water Treatment Chemicals
Other Products
Inquiry by Phone

+81-45-540-8580

Weekdays 9:00~17:00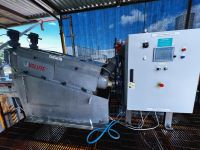 Eliminating the need for vacuum conveying and filter cloth cleaning. Daily sludge treatment facilitated
Plastic bottle recycling plant in Mexico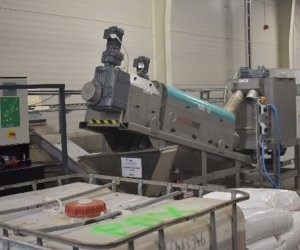 VOLUTE DUO™ dewaters highly fibrous sludge
Ecological stretch film factory in Poland