Squeeze sludge fresh out of the reactor. Don't wait until it stinks!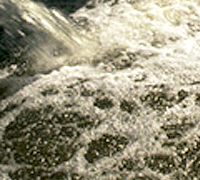 Municipal sewage application (Nagano Prefecture, Japan)
Problem
In the wastewater treatment plant of a town in Nagano, the long-used belt press was in a time to be overhauled. The person in charge had racked his brain over the problem of huge cost required to overhaul this equipment at regular intervals. He had been seeking a solution to this problem.
In addition, he had to cope with another knotty problem that a planned new construction of sludge treatment plant cost had to be lowered as possible.
Furthermore, there had been multiple problems in this town in connection with sludge treatment including odor problem generated from the Sludge Thickening Storage Tank, the employment cost of resident staff to manage the existing dewatering equipment.
AMCON's offer for a solution
The encounter with VOLUTE™ Dewatering Press resolved all these problems in this town. The person in charge started with setting up VOLUTE™ Dewatering Press at a cost of overhauling the existing belt press, which allowed him to avoid the burden of regular huge overhaul cost. As concerns odor problem, one of the features of VOLUTE™ Dewatering Press (direct dewatering system from OD tank) substantially-improved the odor.
VOLUTE™ Dewatering Press also allowed him to reduce resident staff to manage the equipment and the employment cost.

The introduction of VOLUTE™ Dewatering Press was included in a new construction of sludge treatment plant in the basic design phase. With this introduction, there were no need of Sludge Thickening Tank and Sludge Storage Tank, which resulted in about 20 million yen reduction of construction cost.

Feel free to contact us for any inquiries
about sludge treatment and wastewater treatment.
Inquiries about Products, operation instructions, troubleshooting and repairs
Sludge Dewatering Press & Thickener
Sludge dryer & sludge dewatering and fermentation system
Water Treatment Chemicals
Other Products
Inquiry by Phone

+81-45-540-8580

Weekdays 9:00~17:00