Two-chemicals model for liquid polymer
& polyferric sulfate
Water and sludge treatment products
Polymer Make-up System
DG Series
(offered only in Japan)
This machine automatically dissolves polymer used in sludge dewatering presses into a specific dilution rate. A polymer injection pump, polyferric sulfate injection pump, and polyferric sulfate storage tank are all included in the model.

ADVANTAGES
Save labor by full automatic operation
As long as the neat polymer tank is refilled, all troublesome measuring and dissolving works can be performed automatically, and a consistent polymer solution is always obtained.
In addition, compared to manual dissolving, lumps are less likely to be formed, so the polymer is not wasted.
Interlocked operation with sludge dewatering press or another system
The device keeps monitoring the dissolving tank and the neat polymer tank using sensors. When the level of the polymer is low or when supply of dilution water is inadequate, the device automatically stops and sends a warning signal to external equipment.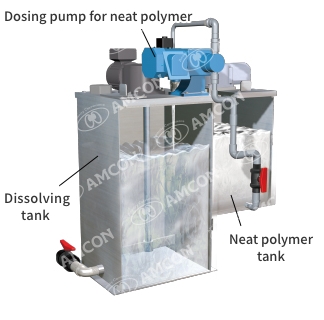 Flow for Product Installation

Feel free to contact us. Following your various conditions, we will select the most suitable model considering your concerns. After determining the specifications and ancillary equipment, we will start producing the equipment. Our sales representative or service engineer will perform operational adjustments at your wastewater treatment plant and you will check how to operate the system before we hand over the equipment.