Electric heat source
Rotary kiln type
Water and sludge treatment products
Sludge Dewatering and Drying System
SP Series
This system can convert waste activated sludge and chemical sludge into dried sludge with a water content of 10 to 40%, reducing the amount of the waste sludge. High thermal efficiency is achieved with the direct contact of the the dewatered cake to the heat source. The unique double layered drum structure ensures a sufficient drying area while providing a compact design.

ADVANTAGES
Significant reduction of waste sludge volume
By drying the dewatered cake with a water content of about 80% to the water content of 10 to 40%, the dryer significantly reduces the amount of waste sludge. Your sludge disposal cost is greatly reduced.
Water content and weight of sludge
Sludge condition
Water content
Sludge cake weight
Raw sludge
99%
10000kg
Thickened sludge
96%
2500kg
Dewatered cake
83%
588kg
Dried sludge
40%
167kg
30%
143kg
20%
125kg
10%
111kg
*Trial calculation for solid content of 100 kg-DS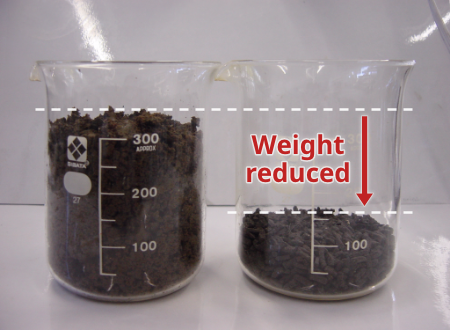 Compact design and easy installation
When combined with the VOLUTE™ Dewatering Press, the dewatered cake discharged from the dewatering machine is fed directly into the dryer which produces the dried cake continuously. Large-scale operating systems such as storage hoppers, large drying tanks, and motors are not required.
In addition, the unique double layered drum structure ensures sufficient drying area.
Its compact design makes it suitable for small facilities, and the installation is also easy.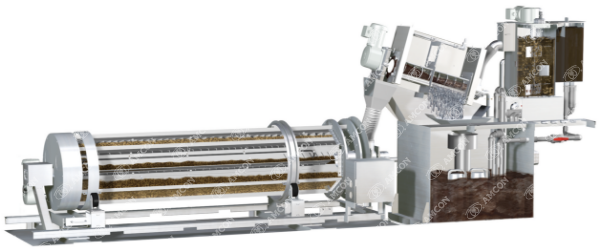 Sludge discharged in flake form for easy handling
Dry sludge is continuously discharged in a flake form.
Discharging the dried sludge in this form reduces the scattering of the sludge and eases handling.
In addition, dried sludge with low water content is less likely to decompose than dewatered cake, making it less likely to produce foul odors when temporarily stored.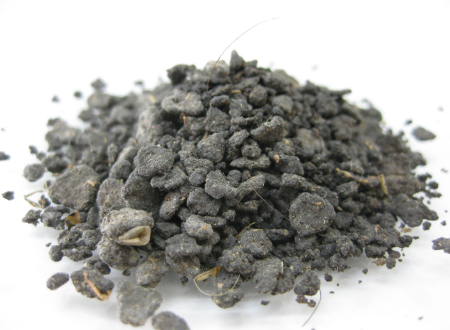 PROCESS FLOW
01

Discharge of Dewatered Cake

The dewatered cake with a water content of about 83% discharged from the sludge dewatering press is continuously fed into the dryer.

02

Inside of the Dryer

Dewatered cake fed to the dryer is gradually dried in the drying drum.

03

Dried Cake

Dried cake with a water content of 10 to 40% is discharged.
Flow for Product Installation

Feel free to contact us. After collecting information about your treatment process, sludge volume, operating hours, and other conditions, we will select the most suitable model for your sludge and your concerns. During jar test, we will simulate the amount of chemicals to be dosed, the estimated water content of the dewatered cake, dried cake, etc. After determining the specifications and ancillary equipment, we will start producing the equipment. Our sales representative or service engineer will perform operational adjustments at your wastewater treatment plant and you will check how to operate the system before we hand over the equipment.