Specifications List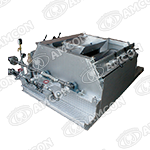 Model
Throughput
Dimensions (mm)
Required Amount
of Steam
(kg/h)
Total Power
Consumption (kW)
Weight (kg)
L
W
H
K-510C
up to 9kg-DS/h
(up to 60kg-WET/h)
2300
1300
1060
70.3
0.8
1500
K-515C
up to14kg-DS/h
(up to 93kg-WET/h)
2800
1300
1060
109.0
0.8
1900
K-810C
up to15kg-DS/h
(up to 100kg-WET/h)
2600
1950
1215
117.2
1.5
3000
K-815C
up to22kg-DS/h
(up to 146kg-WET/h)
3100
1950
1215
171.1
1.5
3500
K-820A
up to28kg-DS/h
(up to 186kg-WET/h)
3500
1950
1215
218.0
1.5
4000
K-12520A
up to44kg-DS/h
(up to 293kg-WET/h)
4130
2900
2000
343.4
3.0
9000
* Throughput is based on the standard case in which the dewatered cake with water content of 85% is treated into dried cake with water content of 40%.
Throughput above may vary depending on the conditions of treated sludge or the water content of the materials to be fed into the drier.
Please inquire with us for further information.
* Dimension,weight and total power above are for each single drier.
* K series is a product of?Kankyo?Setsubi Co., Ltd.
Feel free to contact us for any inquiries
about sludge treatment and wastewater treatment.
Inquiries about Products, operation instructions, troubleshooting and repairs
Sludge Dewatering Press & Thickener
Sludge dryer & sludge dewatering and fermentation system
Water Treatment Chemicals
Other Products
Inquiry by Phone

+81-45-540-8580

Weekdays 9:00~17:00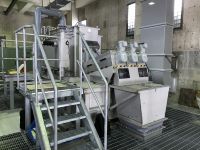 No need to change operational settings even when sludge concentration fluctuates
Sewage treatment plant in Japan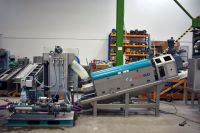 From zero treatment to the best sludge treatment experience
Plastic recycling factory in the Netherlands