Specifications List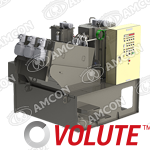 Sludge Dewatering Press (offered only in Japan)
MS Series
[ offered only in Japan ]
Model
Throughput
(kg-DS/h)
Dimensions (mm)
Total Power
Consumption (kW)
Weight (kg)
L
W
H
Empty
Operation
MS-201A
6 to 8
2650
1640
2320
1.915
930
2200
MS-202A
12 to 16
2650
1940
2320
2.115
1230
2700
MS-203A
18 to 24
2650
2240
2320
2.815
1530
3300
MS-204A
24 to 32
2750
2040
2320
3.665
2000
3500
MS-205A
30 to 40
2750
2340
2320
3.865
2300
4100
* Throughput is based on the standard value of the sludge concentration with TS 0.2% to 0.4%, and the water content of dewatered cake being 83% by adding Polyferric sulphate and ampholytic polymer.
* Throughput above is calculated as approximate and may vary depending on sludge condition. For model selection, please contact us.
Feel free to contact us for any inquiries
about sludge treatment and wastewater treatment.
Inquiries about Products, operation instructions, troubleshooting and repairs
Sludge Dewatering Press & Thickener
Sludge dryer & sludge dewatering and fermentation system
Water Treatment Chemicals
Other Products
Inquiry by Phone

+81-45-540-8580

Weekdays 9:00~17:00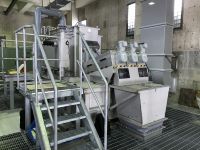 No need to change operational settings even when sludge concentration fluctuates
Sewage treatment plant in Japan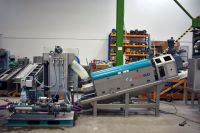 From zero treatment to the best sludge treatment experience
Plastic recycling factory in the Netherlands