By industry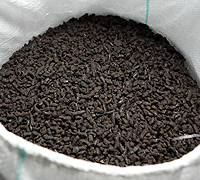 Small Scale Municipal Wastewater Treatment Plant
DC series
Rural Community Sewerage
Previously, sludge was vacuumed out in this treatment plant without being dewatered; however, the cost for sludge treatment was huge. Thus, aiming at "zero-emission" of sludge, fermentation of the sludge was being considered.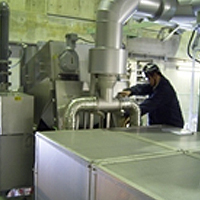 Sewage Treatment Plant
SP/SL Series
Sewage Treatment Plant
In municipal wastewater treatment plant in snowy regions, snow-bound in winter, taking dewatered cake out regularly is sometimes difficult. Two problems were also presented in this municipal wastewater treatment plant, i.e., the difficulty of taking sludge out using carriers in winter, which had been anticipated from the planning stage of construction; and the need for reducing the number of sludge transportations by cutting the amount of sludge to be taken out, following prefectural policy.
Sludge Dewatering Press & Thickener
Sludge dryer & sludge dewatering and fermentation system
Water Treatment Chemicals
Other Products
Inquiries about Maintenance of plumbing systems for residential and commercial buildings
Inspections of facilities
Repairs of water supply and drainage systems
24-hour maintenance
Drainage cleaning
Drinking water storage tank cleaning
Drain tank cleaning
Inquiries about Water quality testing & various environmental analyses
Drinking water, bathtub water and other water quality testing
Wastewater and soil analysis (measurement certification business)
Hygiene testing (swab test)
Inspection of private waterworks
Air quality measurement
Radioactivity measurement
Sale of large business-use water filters and household water filters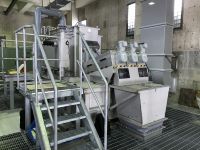 No need to change operational settings even when sludge concentration fluctuates
Sewage treatment plant in Japan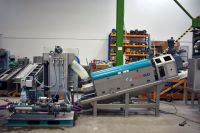 From zero treatment to the best sludge treatment experience
Plastic recycling factory in the Netherlands