"Local Production for Local Consumption" of Sludge
for small municipal WWTPs
Water and sludge treatment products
Sludge Dewatering and Fermentation System
Dell Compo DC Series
(offered only in Japan)
This system is designed for small municipal WWTPs with 1,000 to 3,000 PE and transforms sludge with a water content of approximately 99% into fermented sludge with a water content of approximately 40%. This system is very economical because it ferments the sludge without using secondary materials such as sawdust or rice straw for moisture control.

ADVANTAGES
"Local Production for Local Consumption" of Sludge
In 1996, ahead of all others, AMCON launched Dell Compo, a small footprint, low-cost, high-performance sludge fermentation system.
This system includes all necessary equipment such as a sludge dewatering press, dryer, and fermentation tank into a single unit, and is complete sludge treatment facility for small municipal WWTPs with a limited space.
Sludge that was once disposed as industrial waste for some costs is now utilized as compost*; and sludge disposal cost is eliminated. Since its launch, many small-scale municipal wastewater treatment plants have installed Dell Compo and realized "local production for local consumption of sludge."
*To use fermented sludge as compost, registration with a local municipality is required.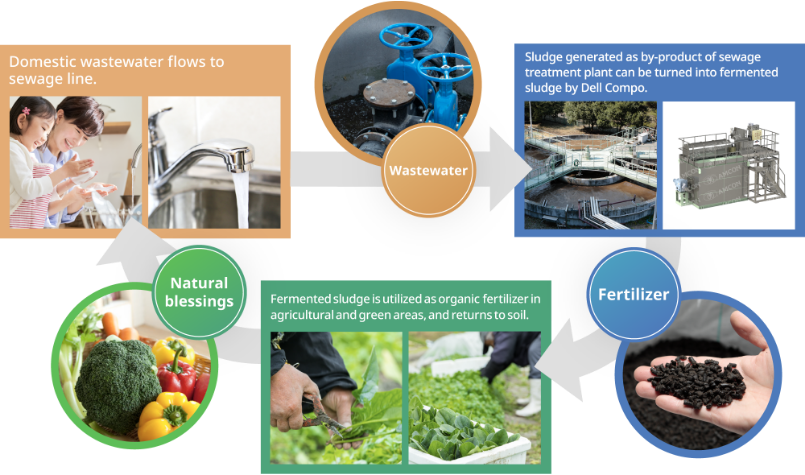 Compost effectiveness of fermented sludge
Fermented sludge can be utilized as fertilizer or soil conditioner in agricultural land and green areas.
Conditioning of soil
Provided with organic material, structure of soil turns crumb and can be suitably conditioned with air or moisture. Consequently, the soil softens and root elongation will be less interrupted.
In addition, the ion-exchangeability of organic material gives soil chemical properties that make it suitable for plant growth such as hardness of active ingredients washout, buffer action of pH; and thus produce stable soil.
Utility of slow acting nutrients
Ingredients from the organic material of fermented sludge dissolve gradually in the soil, therefore, nutrients can be supplied to the soil effectively.
Reduction of soil diseases
Effective micro-organisms in fermented sludge suppress the generation of disease insects or germs.
Fermented sludge that is hygienic and easy to handle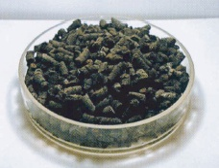 Fermentation at high temperatures of approximately 70 degrees Celsius kills parasites and harmful microorganisms, resulting in a hygienic form of fermented sludge.
In addition, fermented sludge is discharged in pelleted form, so it can be handled easily without scattering dust.
Since the sludge is stored as stable fermented sludge, unlike the storage of dewatered cake with high moisture content, odors and mold do not arise easily, and the plant can be maintained hygienically.
PROCESS FLOW
01

Sludge Feeding

Sludge with dry solid content of 1% is fed into the sludge dewatering press.

02

Discharge of the Dewatered Cake

The dewatered cake with dry solid content of 17%, discharged from the sludge dewatering press, is in turn fed into the dryer.

03

Sludge Dryer

The temperature inside of the drying drum is controlled at about 100 degrees Celsius so that the sludge moisture content will be suitable for following fermentation process.

04

Fermentation Tank

The temperature inside of the fermentation tank is controlled at about 70 degrees Celsius, and the sludge is aerated sufficiently with stirring blades, encouraging fermentation.

05

Pellets

The fermented sludge with a water content of about 40%, having fermented over 3 weeks, is formed into pellets, which are easy to handle, and discharged.
Flow for Product Installation

Feel free to contact us. After collecting information about your treatment process, sludge volume, operating hours, and other conditions, we will select the most suitable model for your sludge and your concerns. During jar test, we will simulate the amount of chemicals to be dosed, the estimated water content of the fermented sludge, etc. After determining the specifications and ancillary equipment, we will start producing the equipment. Our sales representative or service engineer will perform operational adjustments at your wastewater treatment plant and you will check how to operate the system before we hand over the equipment.