Mobile sludge treatment for multiple locations
Also used for emergency sludge treatment

Water and sludge treatment products
Mobile Dewatering Truck
VOLUTE™ MV Series
Everything necessary for mobile sludge treatment in one package. The initial cost can be kept lower than installing sludge treatment systems at multiple locations. Equipment layout can also be arranged.
*The throughput varies depending on the dewatering machine installed.
 Please contact us for details.

ADVANTAGES
ALL IN ONE model with everything you need
Everything you need for sludge dewatering is provided, including pumps, hoses, generator, and power cables.
You can start dewatering immediately with this solution.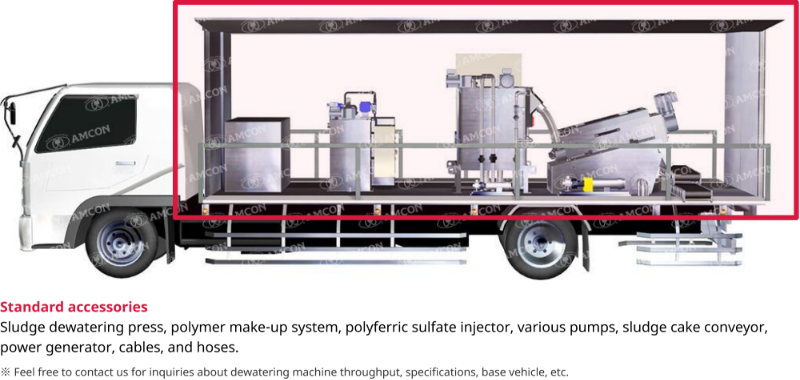 Ideal for mobile sludge dewatering of wastewater treatment plants
If you need to treat sludge at multiple distant locations, this system allows you to keep the initial cost lower than installing sludge treatment systems at multiple locations.
This system can also be used for sludge treatment in emergencies, such as when the sludge treatment function stops at a wastewater treatment plant.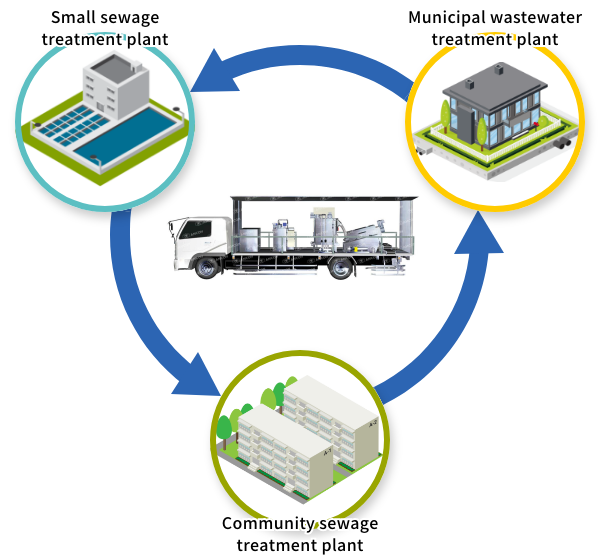 Flow for Product Installation

Feel free to contact us. After collecting information about your treatment process, sludge volume, operating hours, and other conditions, we will select the most suitable model for your sludge and your concerns. During jar test, we will simulate the amount of chemicals to be dosed, the estimated water content of the dewatered cake, etc. Upon request, a pilot test can be performed at your wastewater treatment plant (for a fee). After determining the specifications and ancillary equipment, we will start producing the equipment. Our sales representative or service engineer will perform operational adjustments at your wastewater treatment plant and you will check how to operate the system before we hand over the equipment.