Specifications List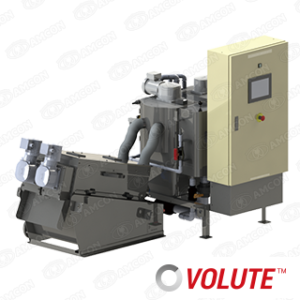 Sludge Dewatering Press
GS series
Raw Wastewater /
Waste Activated Sludge /
Chemically Precipitated Sludge
Dissolved-air
Flotation Sludge
Sludge
Concentration
(TS)
0.2%
1.0%
2.0%
GS-101
up to 3kg‐DS/h
(up to 1.5m3/h )
up to 4.5kg‐DS/h
(up to 0.45m3/h )
up to 7.5kg‐DS/h
(up to 0.37m3/h )
GS-131
up to 6kg‐DS/h
(up to 3.0m3/h )
up to 9kg‐DS/h
(up to 0.9m3/h )
up to 15kg‐DS/h
(up to 0.75m3/h )
GS-132
up to 12kg‐DS/h
(up to 6.0m3/h )
up to 18kg‐DS/h
(up to 1.8m3/h )
up to 30kg‐DS/h
(up to 1.5m3/h )
GS-201
up to 13kg‐DS/h
(up to 6.5m3/h )
up to 20kg‐DS/h
(up to 2.0m3/h )
up to 33kg‐DS/h
(up to 1.67m3/h )
GS-202
up to 26kg‐DS/h
(up to 13.0m3/h )
up to 40kg‐DS/h
(up to 4.0m3/h )
up to 66kg‐DS/h
(up to 3.3m3/h )
GS-301
up to 30kg‐DS/h
(up to 15.0m3/h )
up to 45kg‐DS/h
(up to 4.5m3/h )
up to 75kg‐DS/h
(up to 3.75m3/h )
GS-302
up to 60kg‐DS/h
(up to 30.0m3/h )
up to 90kg‐DS/h
(up to 9.0m3/h )
up to 150kg‐DS/h
(up to 7.5m3/h )
GS-351
up to 60kg‐DS/h
(up to 30.0m3/h )
up to 90kg‐DS/h
(up to 9.0m3/h )
up to 150kg‐DS/h
(up to 7.5m3/h )
GS-352
up to 120kg‐DS/h
(up to 60.0m3/h )
up to 180kg‐DS/h
(up to 18.0m3/h )
up to 300kg‐DS/h
(up to 15.0m3/h )
GS-401
up to 80kg‐DS/h
(up to 40.0m3/h )
up to 120kg‐DS/h
(up to 12.0m3/h )
up to 190kg‐DS/h
(up to 9.5m3/h )
GS-402
up to 160kg‐DS/h
(up to 80.0m3/h )
up to 240kg‐DS/h
(up to 24.0m3/h )
up to 380kg‐DS/h
(up to 19.0m3/h )
Model
Dimensions (mm)
Total Power
Consumption (kW)
Weight (kg)
L
W
H
Empty
Operation
GS-101
2045
1236
1440
0.40
344
546
GS-131
2190
1236
1440
0.40
354
556
GS-132
2190
1236
1440
0.50
464
676
GS-201
2581
1236
1440
0.50
514
736
GS-202
3165
1465
1855
1.35
1260
1885
GS-301
3765
1415
1855
1.35
1240
1890
GS-302
3985
1700
1855
1.75
1775
2775
GS-351
4500
1665
2250
2.45
2135
3105
GS-352
5180
1910
2255
5.95
4100
6730
GS-401
5870
1905
2250
4.45
3200
5730
GS-402
6170
2305
2250
5.95
4830
8700
* Throughput above is calculated as approximate and may vary depending on sludge condition. For model selection, please contact us.
* Throughput of each model is based on sludge cake with 20±5% solids content.
* There is no certain upper limitation on inlet sludge concentration, however, the target sludge must be flowable.
* Throughput of DAF Sludge is based on sludge containing much fat, oil, and grease such as meat processing applications etc.
Feel free to contact us for any inquiries
about sludge treatment and wastewater treatment.
Inquiries about Products, operation instructions, troubleshooting and repairs
Sludge Dewatering Press & Thickener
Sludge dryer & sludge dewatering and fermentation system
Water Treatment Chemicals
Other Products
Inquiry by Phone

+81-45-540-8580

Weekdays 9:00~17:00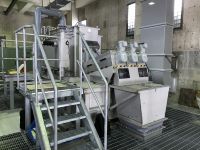 No need to change operational settings even when sludge concentration fluctuates
Sewage treatment plant in Japan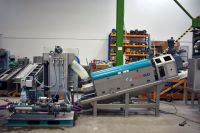 From zero treatment to the best sludge treatment experience
Plastic recycling factory in the Netherlands