Specifications List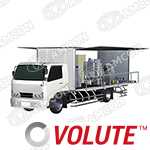 Mobile Dewatering Truck (offered only in Japan)
MV Series
[ offered only in Japan ]
Model
Throughput
Base Vehicle
Dimensions (mm)
Total Power
Consumption (kW)
Weight (kg)
L
W
H
Empty
Operation
MV-1
up to 20kg‐DS/h
(up to 2.0m3/h )
4-ton truck

(Total vehicle weight less than 8-ton)

7200
2280
3300
3.5
3800
4500
MV-2
up to 45kg‐DS/h
(up to 4.5m3/h )
8-ton truck

(Total vehicle weight less than 11-ton)

8885
2280
3300
7.92
6400
7700
MV-3
up to 90kg‐DS/h
(up to 9.0m3/h )
8.67
6800
8500
【Standard Accessories】Sludge dewatering press, Polymer make-up system, Polyferric Sulfate dosing pump, Other pumps, Dewatered cake conveyor, Generator, Power cable and Hoses
* Throughput above is calculated as approximate and may vary depending on sludge condition.
For model selection, please contact us.
* Throughput of each model is based on sludge cake with 20±5% solids content.
*?Throughput is based on waste activated sludge and chemically precipitated sludge with TS 1.0%.
Feel free to contact us for any inquiries
about sludge treatment and wastewater treatment.
Inquiries about Products, operation instructions, troubleshooting and repairs
Sludge Dewatering Press & Thickener
Sludge dryer & sludge dewatering and fermentation system
Water Treatment Chemicals
Other Products
Inquiry by Phone

+81-45-540-8580

Weekdays 9:00~17:00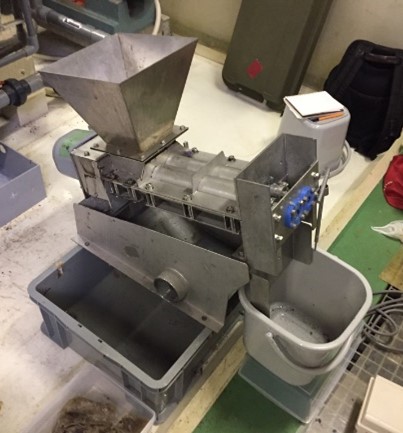 Improving the working environment by dewatering waste dry film photoresist
Semiconductor package manufacturing plant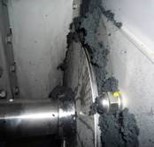 Effectiveness in dewatering of digested sludge generated by the biomass process
Food factory in Japan