Basic model
with simple structure & easy operation
Water and sludge treatment products
VOLUTE™ Dewatering Press
FS Series
In addition to a simple structure with basic VOLUTE™ features such as power-saving, water-saving, and low noise, this model has a control function (VAS: VOLUTE™ Antilock System) that supports the continuous stable operation. The machine prevents overload stoppage, which may reduce an hourly throughput. It is easy to operate having the same control system as higher-end models adopted.

ADVANTAGES
No clogging even with oily sludge

No pre-thickening required, TS: 0.2% or more

Prevent overload stoppage that reduce an hourly throughput

Applicable for various applications

High solid capture rate

Water-saving & Power-saving

Low noise and low vibration

Easy operation and easy maintenance

Excellent expandability
Additional cylinder unit can be added even after delivery
Preventing overload stoppage that delays dewatering
Equipped with the stable operation support control VAS (VOLUTE™ Antilock system), this machine prevents overload stoppage, which may cause dewatering to stall.
Constantly monitoring the current value of the screw motor, this machine controls the screw speed properly to ensure stable dewatering.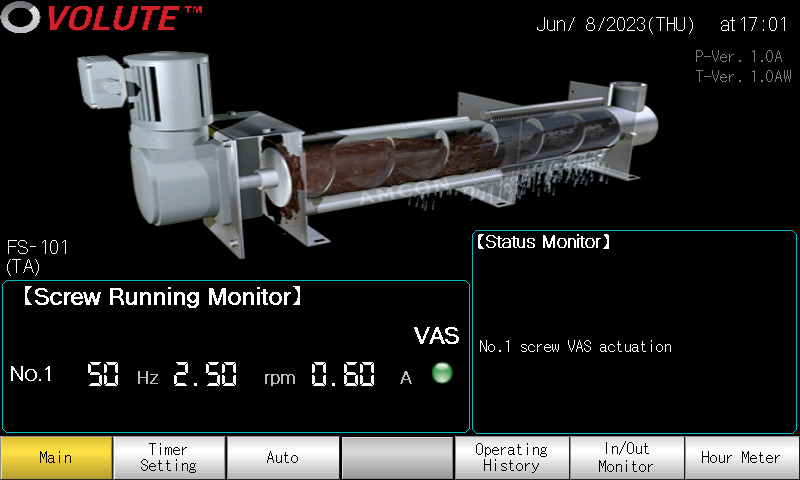 No clogging even with oily sludge
The machine has a filter element that consists of alternating layers of rings fixed at four locations (fixed rings) and vertically movable rings (moving rings) maintaining a gap between them, and a single screw that is threaded through the filter element to transfer and compact the sludge.
A clog-free self-cleaning mechanism is achieved since the screw rotates at a constant speed in contact with the floating ring, driving the floating ring to clean the filter element gap. The machine delivers stable dewatering performance even with oily sludge.
The amount of cleaning water for preventing clogging is very small compared to other types of dewatering machines.

No pre-thickening required
This machine has an integrated structure in which two processes, thickening and dewatering, are handled by a single filter element, allowing the user to directly charge low-concentration sludge having a TS of about 0.2% without providing a thickening system in the preceding stage.
This not only reduces the construction and operating costs for the thickening and storage systems but also reduces odor because aerobic sludge is dewatered.
The machine can also efficiently capture phosphorus in waste activated sludge to the dewatered cake side, reducing the load caused by phosphorus returning to wastewater treatment.


PROCESS FLOW
01

Flow Control Tank

Sludge feed is regulated with the overflow pipe, returning excess volume to the sludge storage tank.

02

Flocculation Tank

Polymer and sludge are stirred and mixed, forming flocs suitable for VOLUTE™.

03

Cylinder Unit

Sludge is instantly thickened in the thickening zone of the cylinder, and then the inner pressure increased at the dewatering zone helps sludge being dewatered well.

04

Discharge Outlet for Dewatered Cake

Further pressure is applied from the outlet side with the end plate, discharging dewatered cake with 20% (+/-5%) dry solids content.
Flow for Product Installation

Feel free to contact us. After collecting information about your treatment process, sludge volume, operating hours, and other conditions, we will select the most suitable model for your sludge and your concerns. During jar test, we will simulate the amount of chemicals to be dosed, the estimated water content of the dewatered cake, etc. Upon request, a pilot test can be performed at your wastewater treatment plant (for a fee). After determining the specifications and ancillary equipment, we will start producing the equipment. Our sales representative or service engineer will perform operational adjustments at your wastewater treatment plant and you will check how to operate the system before we hand over the equipment.