From Revolution to Evolution
Versatile VOLUTE™ for organic
inorganic and highly fibrous sludge
Water and sludge treatment products
VOLUTE DUO™ Dewatering Press
HR Series
This model maintains high dewatering performance over an extended period without replacing consumable parts, thereby reducing the cost of sludge treatment. It can also handle sludge containing highly fibrous and inorganic materials.

ADVANTAGES
Clog-free self-cleaning mechanism

No pre-thickening required, TS: 0.5% or more

Significantly extended life span reduces replacement parts cost

Applicable to various sludge w/o blockage in the cylinder

Water-saving & Power-saving

Easy operation and easy maintenance
Clog-free self-cleaning mechanism
The equipment has a filter element that consists of alternating layers of fixed rings and vertically moving rings maintaining a gap between them, and two screws are threaded through the filter element to transfer and compact the sludge.
A clog-free self-cleaning mechanism is achieved in which the moving ring is driven by the external rod to clean the filter element gap.
The amount of cleaning water for preventing clogging is very small compared to other types of dewatering machines.
Applicable to a wide range of sludge types without blockage in the cylinder
Each of the two screws rotates inward within the filter element to transfer sludge while the screw flights break up materials that easily cause clogging.
The machine is hard to be clogged even with sludge containing highly fibrous or inorganic materials, thereby providing a stable dewatering performance.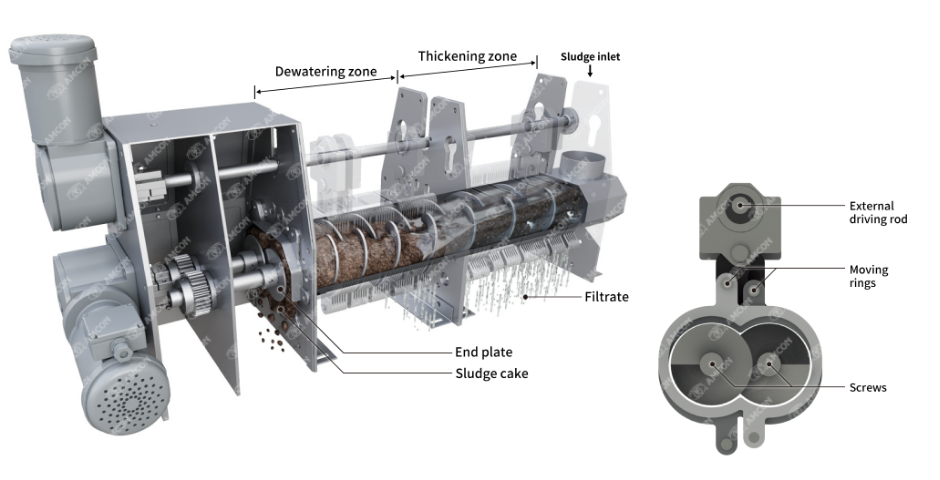 Power and water saving
Power-saving operation
The screw in the filter element of the VOLUTE DUO rotates at a very low speed of approximately 2 to 4 rpm and consumes very little power, resulting in a high cost-efficiency. As for the power consumption required to process one ton of dry sludge,
this model can reduce the power consumption by approximately 65% in comparison with a centrifugal dewatering machine.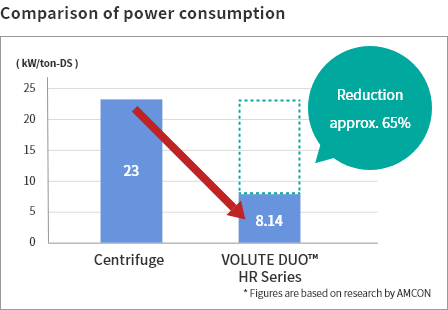 Water-saving design
VOLUTE DUO™ employs a unique self-cleaning mechanism to prevent clogging in the filter element, thereby eliminating the use of large amounts of cleaning water for clogging prevention.
Compared to a belt press dewatering machine and a screw press dewatering machine, both with the same throughput, the amount of cleaning water is about 1/38 and about 1/4, respectively.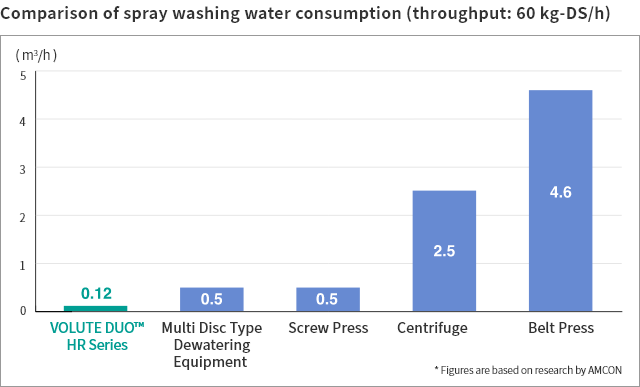 Long-life design significantly reduces replacement parts cost
The ring is driven by the external rod to prevent contact between consumable parts such as Moving Rings and Screws.
The life of consumable parts has been dramatically extended,resulting in a significant reduction in consumables costs compared to our previous models.
VOLUTE DUO™ can also maintain high dewatering performance for a long time.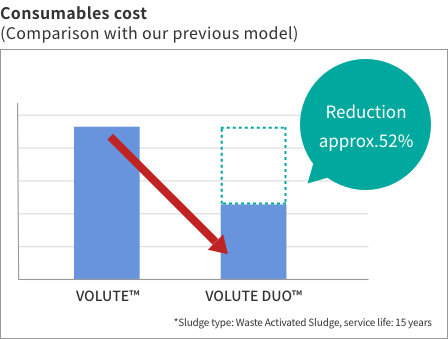 No pre-thickening required
This machine has an integrated structure in which two processes, thickening and dewatering, are handled by a single filter element, thus allowing the user to directly charge low-concentration sludge having a TS of about 0.5% without any pre-thickening stage.
This not only reduces the construction and operating costs for the thickening and storage systems but also reduces odor because fresh aerobic sludge is dewatered.
The machine can also efficiently capture phosphorus in waste activated sludge to the dewatered cake side, reducing the load caused by phosphorus returning to wastewater treatment.


AMCON's Twin Screws Sludge Dewatering Press is Suitable
for Nearly Any Type of Application
PROCESS FLOW
01

Inline Mixer

An inline mixer mounted in the piping causes sludge to react with polymer.

02

Flocculation Tank

Flocculated sludge and polymer are mixed to form flocs suitable for VOLUTE DUO™.

03

Cylinder Unit

Sludge is thickened at the thickening zone in the precedent stage and dewatered at the dewatering zone in the subsequent stage under increasing inner pressure.

04

Discharge Outlet for Dewatered Cake

Further pressure is applied from the outlet side with the end plate, discharging dewatered cake with 20% (+/-5%) dry solids content.
Flow for Product Installation

Feel free to contact us. After collecting information about your treatment process, sludge volume, operating hours, and other conditions, we will select the most suitable model for your sludge and your concerns. During jar test, we will simulate the amount of chemicals to be dosed, the estimated water content of the dewatered cake, etc. Upon request, a pilot test can be performed at your wastewater treatment plant (for a fee). After determining the specifications and ancillary equipment, we will start producing the equipment. Our sales representative or service engineer will perform operational adjustments at your wastewater treatment plant and you will check how to operate the system before we hand over the equipment.