Specifications List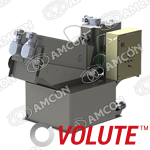 Sludge Dewatering Press
EC Series
Raw Wastewater /
Waste Activated Sludge /
Chemically Precipitated Sludge
Dissolved-air
Flotation Sludge
Mixed Raw Sludge
Sludge
Concentration
(TS)
0.2%
1.0%
2.0%
5.0%
3.0%
EC-101
up to 2kg-DS/h
(up to 1.0m3/h)
up to 3kg-DS/h
(up to 0.3m3/h)
up to 5kg-DS/h
(up to 0.25m3/h)
up to 10kg-DS/h
(up to 0.2m3/h)
up to 13kg-DS/h
(up to 0.43m3/h)
EC-102
up to 4kg-DS/h
(up to 2.0m3/h)
up to 6kg-DS/h
(up to 0.6m3/h)
up to 10kg-DS/h
(up to 0.5m3/h)
up to 20kg-DS/h
(up to 0.4m3/h)
up to 26kg-DS/h
(up to 0.87m3/h)
EC-131
up to 4kg-DS/h
(up to 2.0m3/h)
up to 6kg-DS/h
(up to 0.6m3/h)
up to 10kg-DS/h
(up to 0.5m3/h)
up to 20kg-DS/h
(up to 0.4m3/h)
up to 26kg-DS/h
(up to 0.87m3/h)
EC-132
up to 8kg-DS/h
(up to 4.0m3/h)
up to 12kg-DS/h
(up to 1.2m3/h)
up to 20kg-DS/h
(up to 1.0m3/h)
up to 40kg-DS/h
(up to 0.8m3/h)
up to 52kg-DS/h
(up to 1.73m3/h)
EC-133
up to 12kg-DS/h
(up to 6.0m3/h)
up to 18kg-DS/h
(up to 1.8m3/h)
up to 30kg-DS/h
(up to 1.5m3/h)
up to 60kg-DS/h
(up to 1.2m3/h)
up to 78kg-DS/h
(up to 2.6m3/h)
EC-202
up to 16kg-DS/h
(up to 8.0m3/h)
up to 24kg-DS/h
(up to 2.4m3/h)
up to 40kg-DS/h
(up to 2.0m3/h)
up to 80kg-DS/h
(up to 1.6m3/h)
up to 104kg-DS/h
(up to 3.47m3/h)
EC-203
up to 24kg-DS/h
(up to 12m3/h)
up to 36kg-DS/h
(up to 3.6m3/h)
up to 60kg-DS/h
(up to 3.0m3/h)
up to 120kg-DS/h
(up to 2.4m3/h)
up to 156kg-DS/h
(up to 5.2m3/h)
EC-204
up to 32kg-DS/h
(up to 16m3/h)
up to 48kg-DS/h
(up to 4.8m3/h)
up to 80kg-DS/h
(up to 4.0m3/h)
up to 160kg-DS/h
(up to 3.2m3/h)
up to 208kg-DS/h
(up to 6.93m3/h)
EC-205
up to 40kg-DS/h
(up to 20m3/h)
up to 60kg-DS/h
(up to 6.0m3/h)
up to 100kg-DS/h
(up to 5.0m3/h)
up to 200kg-DS/h
(up to 4.0m3/h)
up to 260kg-DS/h
(up to 8.67m3/h)
Model
Dimensions (mm)
Total Power
Consumption (kW)
Weight (kg)
L
W
H
Empty
Operation
EC-101
1757
700
1705
0.7
270
670
EC-102
1757
900
1705
0.8
320
820
EC-131
1757
700
1705
0.7
285
685
EC-132
1757
900
1705
0.8
350
850
EC-133
1847
1100
1705
0.9
420
1070
EC-202
2485
1180
1728
1.45
870
1820
EC-203
2591
1470
1728
1.8
1075
2375
EC-204
2665
1780
1728
2.7
1470
3120
EC-205
2741
2085
1728
2.9
1820
3720
* Throughput above is calculated as approximate and may vary depending on sludge condition.For model selection, please contact us.
* Throughput of each model is based on sludge cake with 20±5% solids content.
* There is no certain upper limitation on inlet sludge concentration, however, the target sludge must be flowable.
* Throughput of DAF Sludge is based on sludge containing much fat, oil, and grease such as meat processing applications etc.
* Throughput of? Mixed Sludge (Primary Sludge and Waste Activated Sludge) is based on sludge containing 20% fiber (150 micron mesh clearance) against Total Solids.
Specifications shall be changed depending on sludge conditions.
Feel free to contact us for any inquiries
about sludge treatment and wastewater treatment.
Inquiries about Products, operation instructions, troubleshooting and repairs
Sludge Dewatering Press & Thickener
Sludge dryer & sludge dewatering and fermentation system
Water Treatment Chemicals
Other Products
Inquiry by Phone

+81-45-540-8580

Weekdays 9:00~17:00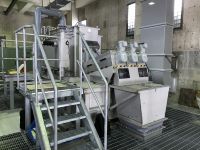 No need to change operational settings even when sludge concentration fluctuates
Sewage treatment plant in Japan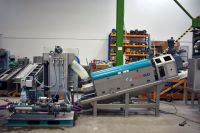 From zero treatment to the best sludge treatment experience
Plastic recycling factory in the Netherlands