Water Treatment Chemicals (offered only in Japan)
Example of chemical addition in wastewater treatment flow

Polymer Hybrid V has great flocculation efficiency. They are suitable for various types of wastewater treatment systems, such as sludge dewatering presses, dissolved-air floatation (DAF) systems, and chemical precipitation systems. Hybrid V has anionic, cationic, non-ionic and zwitterionic coagulants. The coagulants also come in two different forms: emulsion and powder. Polymer Make-up System AF/DG/AP Series and Polymore will automate the whole process, including measurement of a polymer stock solution and dilution water and agitation. Hybrid V is officially recommended for our sludge dewatering presses and thickeners.
Comparison between emulsion and powder
Emulsion
Polymer with 40% effective concentration
Powder
Priced more competitively than emulsion coagulants
Dissolution time
1-10 minutes
1 hour
Dilution ratio
1:200 to 1:800
(The standard ratio is 1:400.)
1:500 to 1:2000
(The standard ratio is 1:1000.)
Packing
10 kg/box or 1-ton container
10 kg/bag or 15 kg/bag
Why we recommend emulsion coagulants
Great solubility

Emulsion coagulants are much more soluble than powder coagulants. The polymer portion of a powder coagulant needs to be hydrated before it dissolves. It usually takes more than an hour for the mixture to be stabilized. The emulsion dissolves in about one quarter of the time required for the powder. It will be ready for use in a short time. Also, unlike powder, emulsion hardly forms lumps and produces a uniform coagulant without waste.
Hygienic handling

Emulsion coagulants are also highly hygienic in handling. Unlike powder coagulants, emulsion coagulants do not fly in the air and there is no danger of inhalation.
Select Product Lineup
Type
Product Code
Primary Component
Ionicity
Effective pH
Emulsion
HB-6055
Polyacrylamide
Medium anion
5 to 12
HB-6080
Polyacrylamide
Strong anion
3 to 10
HB-7100
Polyacrylic acid ester
Cation
3 to 10
HB-7175
Polyacrylic acid ester
Cation
3 to 10
HB-8042
Polyacrylic acid ester
Zwitter ion
3 to 10
HB-8045
Polyacrylic acid ester
Zwitter ion
3 to 10
Powder
HF-6520
Polyacrylamide
Weak anion
6 to 12
HF-7510
Polyacrylic acid ester
Strong cation
3 to 10
HF-8530
Polyacrylic acid ester
Zwitter ion
3 to 10
*Various other products are available. Please contact us for more detailed information.

(Bulking Inhibitors, Sludge Modifiers, Nutrients, Microorganism Agents, Deodorizing Agents, Treatment Agent for Oil-Containing Effluent)
Having high load wastewater or commingling of inhibitor
Arising settlement difficulty by filamentous-bulking, foaming and scum formation by actinomycetes
Arising sludge carry-over by over loading of inflow quantity
No idea of the reason for declining quality of treated water
Aren't you having these problems with your wastewater treatment?
Hybrid W series have a wide range of chemicals from Splitting Agents for Fats and Oils to Deodorizing Agents for sludge cake, solve various problems coming up in the process of wastewater treatment.
Product Lineup
Purpose
Product Name
Feature
Bulking Inhibitors
BY10
Sedimentation Promoter
BY20
Sedimentation Promoter、Elimination of Actinomycetes
BY30
Standard Product of Bulking Inhibitor
BY40
Inflict great damage with light addition
BY50
Dissolution of Scum, Defoaming Agent
Sludge Modifiers
SK100
Used as seeding agents for newly constructed microorganism treatment tanks
SK101
Standard product of highly-activated microorganism agent
SK103
Activation promoter dispensed natural chemical for microorganism treatment tank
Nutrients
NZ201
Activation of microorganisms by a infinitesimal amount of nutrient
NZ202
Activation of microorganisms by natural activator
Microorganism Agents
BS300
Activated sludge stabilizes by continuously-additioned sludge-digestion promoter
BS302
Sludge-digestion promotion, Splitting of fats and oils
Deodorizing Agents
SZ100
Immediate deodorizing of hydrogen sulfide and mercaptans
SZ101
Deodorizing and antibacterial of various malodors by natural plant extract
Treatment Agent for Oil-Containing Effluent
FS1
Solubilizing of oil contained in effluent in a short time and promoting of biodegradation
Functional Agents
KY1
Removal of pectic substances
Inorganic Coagulants
There are also inorganic coagulants that can be used in all wastewater treatment processes such as sludge dewatering, dissolved-air flotation and chemically precipitation.
Polyferric Sulfate
PAC (Polyaluminum Chloride)
Recommendations
Poly Make-up System
AF/DG/AP Series, and Polymore

For labor saving in sludge treatment
Available throughout Japan! Please feel free to contact us for any inquiries
about sludge treatment and wastewater treatment.
Inquiries about Water Treatment Chemicals
Inquiry by Phone

+81-45-540-8580

Weekdays 9:00~17:00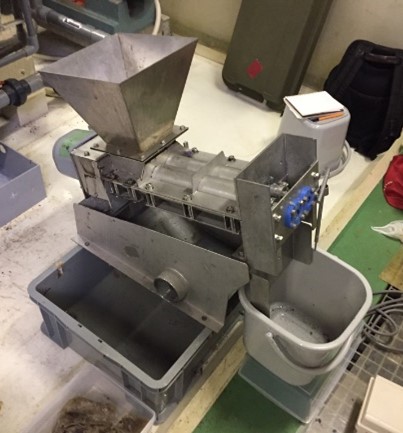 Improving the working environment by dewatering waste dry film photoresist
Semiconductor package manufacturing plant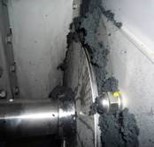 Effectiveness in dewatering of digested sludge generated by the biomass process
Food factory in Japan