Waste Dry Film Photoresist Dewatering Press
The TV-50F waste dry film photoresist dewatering press is designed to dewater waste photoresist generated from photoresist patterning processes, such as PCB manufacturing.
Waste Dry Film Photoresist Dewatering Press TV-50F
Today, one of the key challenges with business management is reduction of waste generated from production process. The TV-50F reduces waste photoresist with high dewatering capacity and helps reduce disposal cost. The TV-50F is compact: 844 mm long, 363 mm wide and 555 mm high. It does not require large space.
Structure
The TV-50F consists of a filter and two screws passing through the filter. The filter comprises two types of rings, fixed and moving rings. The screws convey and compact waste photoresist. The blades of the screws overlap each other. The rotating blades cut into the waste while the waste is flowing towards the outlet. This design helps achieve high dewatering efficiency and stable dewatering treatment.
Example of reduction in annual disposal cost of 3 million yen
Waste disposal cost is reduced by dewatering waste dry film photoresist containing photoresist remover and reducing the amount of waste to 30% to 65%*.
Reduction in the amount of waste will also shrink time required for transport and disposal.
*The reduction percentages vary depending on material to be dewatered.
Example of disposal cost reduction
| | |
| --- | --- |
| Production capacity | 360,000 m2/year (30,000 m2/month) |
| Waste generation | 60 t/year |
| Waste disposal cost | 100 yen/kg or 20,000 yen/drum |
| Waste reduction by dewatering | 50% |
| Dewatering capacity | 30 kg-WET/h max. |
*This cost estimate does not include transport, equipment maintenance, operation and running costs.
Easier handling of waste photoresist
Before dewatered, waste dry film photoresist is mixed with photoresist remover and the water content is very high. The waste is a strong alkali. It is hazardous and it must be handled carefully in transport and disposal not to spill it. The waste, after dewatered by the TV-50F, is like grated cheese and it won't drip the remover solution. That will improve the working environment for transport and disposal.
Example of use of TV-50F
Feel free to contact us for any inquiries
about sludge treatment and wastewater treatment.
Inquiries about Products, operation instructions, troubleshooting and repairs
Sludge Dewatering Press & Thickener
Sludge dryer & sludge dewatering and fermentation system
Water Treatment Chemicals
Other Products
Inquiry by Phone

+81-45-540-8580

Weekdays 9:00~17:00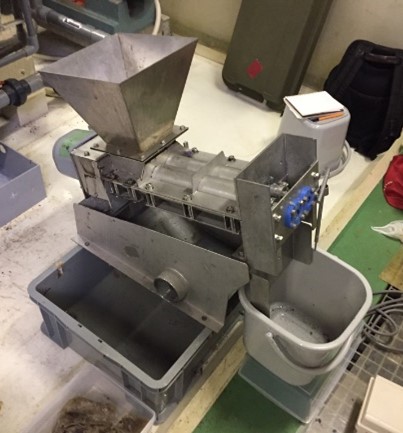 Improving the working environment by dewatering waste dry film photoresist
Semiconductor package manufacturing plant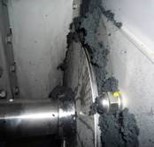 Effectiveness in dewatering of digested sludge generated by the biomass process
Food factory in Japan