Sludge Dewatering Press
Sludge dewatering press equipped with VOLUTETM technology. Dewatering with an automatic self-cleaning filter mesh enables stable constant dewatering without the need for flush water to prevent clogging.
GS series
The high-end dewatering press equipped with various functions
Applying the new pre-thickening mechanism in the flocculation tank, maximum 1.5 times throughput is achieved comparing with FS model.
Also, 'VAS (VOLUTETM Antilock System)'is normally loaded, which supports the stable operations continuously to achieve a far more User-Friendly model for any operators.
Throughput
Improved throughput
GS Series have got 2 built-in thickening functions, first in the Thickening Flocculation Tank and then in the VOLUTETM cylinder.
Assuming the desired dryness of the dewatered cake is set as same as existing model, the throughput has increased by approx. 50%
New functional design
A new design dedicated to usability is adopted.
Completely closed covers prevent water or sludge from splashing.
Hinged covers have dramatically improved usability.
Improved stability (VOLUTETM Autilock System)
A newly adopted control mechanism realizes a more stable and continuous operation by preventing overload of the machine.
Constantly monitoring the ampere of V-screw motors, it controls the rotation speed of the motor at an optimal rate to realize a more stable dewatering.
FS series
The basic dewatering press equipped with every advantage
FS series is the basic dewatering press equipped with every advantage such as water-saving, power-saving, low noise, and others. In the control panel, PLC touch-screen is applied the same as GS high-end model so that any operators can not only see the current operation of each equipment at a sight but also take easy handling of a machine by finger-touching.
Throughput
EC series
Evaluated higher in the long-run since it launched in 2001
Having a sludge conditioning tank which enables not only more than 95% solids-capture-rate in filtrate water but also easy installation on site, this model acquires by a lot of customers even now.
Throughput
AW series
Classic Model for Community Sewage Plant
AW series is the model for the rural community sewerage which have been sold and evaluated for long time since it lunched. It is updated with the great improvement for the detailed functional improvements which enables "easy installation", "easy operation" and "easy maintenance".
Throughput
ES-051
The smallest dewatering press in the world
ES-051 is appropriate for installing in the small scale wastewater treatment plants. This is suitable not only for installing in sewage system, but also for installing in other small facilities such as industrial laundry, vehicle-maintenance factories, and others.
Recommendations
Polymer Coagulant
Hybrid V Series

Officially recommended polymers for VOLUTETM Dewatering Presses and Thickeners
Polymer Make-up System
AF/AP Series, Polymore

For labor saving in sludge treatment
※VOLUTETM is a trademark of AMCON products.
Feel free to contact us for any inquiries
about sludge treatment and wastewater treatment.
Inquiries about Products, operation instructions, troubleshooting and repairs
Sludge Dewatering Press & Thickener
Sludge dryer & sludge dewatering and fermentation system
Water Treatment Chemicals
Other Products
Inquiry by Phone

+81-45-540-8580

Weekdays 9:00~17:00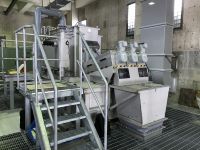 No need to change operational settings even when sludge concentration fluctuates
Sewage treatment plant in Japan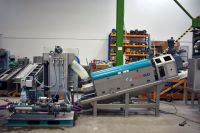 From zero treatment to the best sludge treatment experience
Plastic recycling factory in the Netherlands